The ART CENTER AD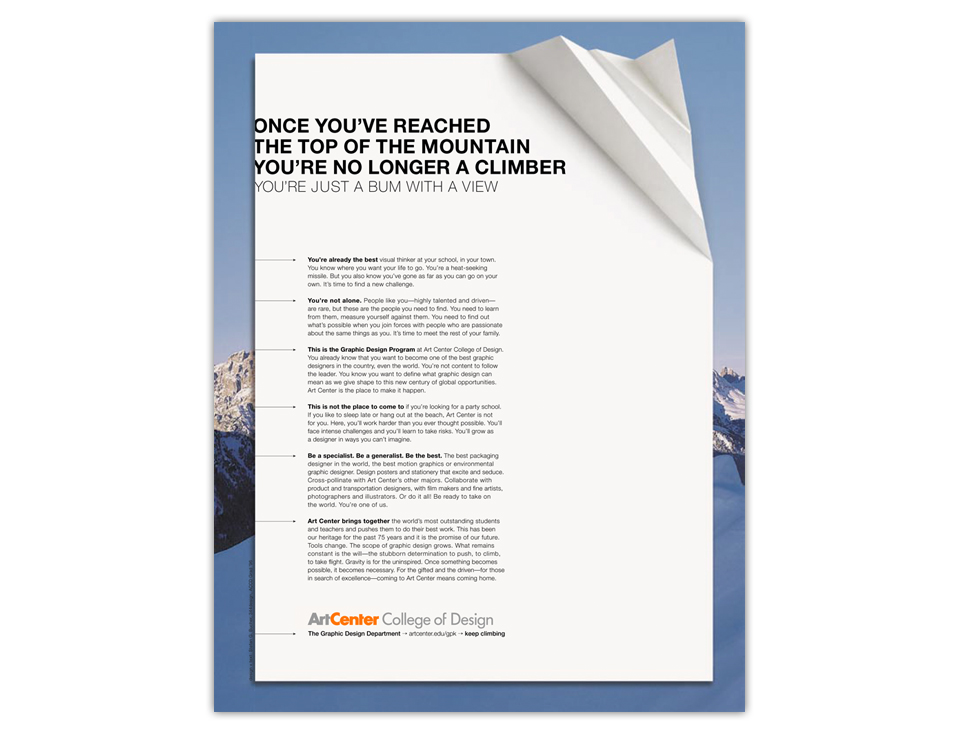 ONCE YOU'VE REACHED THE TOP OF THE MOUNTAIN
YOU'RE NO LONGER A CLIMBER, YOU'RE JUST A BUM WITH A VIEW.
Spoken like a true workaholic.
The Graphic Design Department at my alma mater asked me to create an ad that would help them recruit the best and the brightest. This was during an early peak of my West Wing obsession, so I thought I'd get my Sorkin on. Get ready for haughty, because here comes the body copy. Please imagine it in the voice of President Bartlet.
---
You're already the best visual thinker at your school, in your town. You know where you want your life to go. You're a heat-seeking missile. But you also know you've gone as far as you can go on your own. It's time to find a new challenge.
You're not alone. People like you—highly talented and driven—are rare, but these are the people you need to find. You need to learn from them, measure yourself against them. You need to find out what's possible when you join forces with people who are passionate about the same things as you. It's time to meet the rest of your family.
This is the Graphic Design Program at Art Center College of Design. You already know that you want to become one of the best graphic designers in the country, even the world. You're not content to follow the leader. You know you want to define what graphic design can mean as we give shape to this new century of global opportunities. Art Center is the place to make it happen.
This is not the place to come to if you're looking for a party school. If you like to sleep late or hang out at the beach, Art Center is not for you. Here, you'll work harder than you ever thought possible. You'll face intense challenges and you'll learn to take risks. You'll grow as a designer in ways you can't imagine.
Be a specialist. Be a generalist. Be the best. The best packaging designer in the world, the best motion graphics or environmental graphic designer. Design posters and stationery that excite and seduce. Cross-pollinate with Art Center's other majors. Collaborate with product and transportation designers, with film makers and fine artists, photographers and illustrators. Or do it all! Be ready to take on the world. You're one of us.
Art Center brings together the world's most outstanding students and teachers and pushes them to do their best work. This has been our heritage for the past 75 years and it is the promise of our future. Tools change. The scope of graphic design grows. What remains constant is the will—the stubborn determination to push, to climb, to take flight. Gravity is for the uninspired. Once something becomes possible, it becomes necessary. For the gifted and the driven—for those in search of excellence—coming to Art Center means coming home.
The Graphic Design Department at Art Center College of Design—keep climbing
---
Yeah, I know. Wasn't holding back there, was I? The thing is… I still believe every word. Except perhaps the headline. That seems a bit dickish to me now. Or misguided. Taking some joy from your achievements should be part of the experience. They shouldn't just be stepping stones to the next thing. But that's me talking many years later, and I'm working on it still. That said, this represents my best thinking at the age of 31.
---