RAW SCIENCE FILM FESTIVAL
RawScience.tv hosts an annual showcase of the best films dealing with science and scientists. The fifth incarnation of the festival coincided with the 50th anniversary of the first humans on the Moon. Raw Science founder Keri Kukral invited me to create festival branding that celebrates one of humanity's greatest achievements.
This was a quick and simple project. All the work had to be done on a tight turnaround, and on a tight budget, so Keri didn't mess around, and neither did I. With assignments like this, the fun is in trusting your instinct and forging ahead! In a way, this felt like a return to designing the Echo Park Time Travel Mart—fast, fun, and fabulous!
---
Everything about the festival branding relates back to the Apollo program. For lunar imagery, I turned to NASA's wonderful photo archive. All of their output is in the public domain, happily, as it's all been funded by your tax dollars and mine.

The typeface is Futura, the default font of the 1960s space program. Those little + marks? Those are called fiducial marks. Each Hasselblad camera carried by the Apollo astronauts was outfitted with a Réseau plate that superimposed a 5x5 grid of precisely spaced fiducials on all photos taken. This was done to help scientists compensate for film distortion, which stretches during developing and shriks while drying. The exact spacing also helps with judging angular distance between objects.
The Step and repeat in the lobby of the ACE hotel

Beyond that, I used the sound of Apollo XI taking off from Cape Canaveral (now Kennedy Space Center) in Florida, mixed with the characteristic beeps sent to mark the beginning and end of transmissions sent from mision control to the spacecraft. These are called Quindar tones, named for the Quindar Electronics corporation that built the system.
The United Artists Theater, built by Mary Pickford, Douglas Fairbanks and Charlie Chaplin

Some jobs are fun and quick and easy. And everything looked even better on display at our beautiful venue, the historic United Artists Theatre at the Ace Hotel in Downtown Los Angeles. My thanks to Jack Klinck for running AV, and to Martin Horowitz for turning the poster designs into beautiful oversized prints.
Poster and lobby cards outside the ACE Hotel / event website / awards certificate
The awards certificate template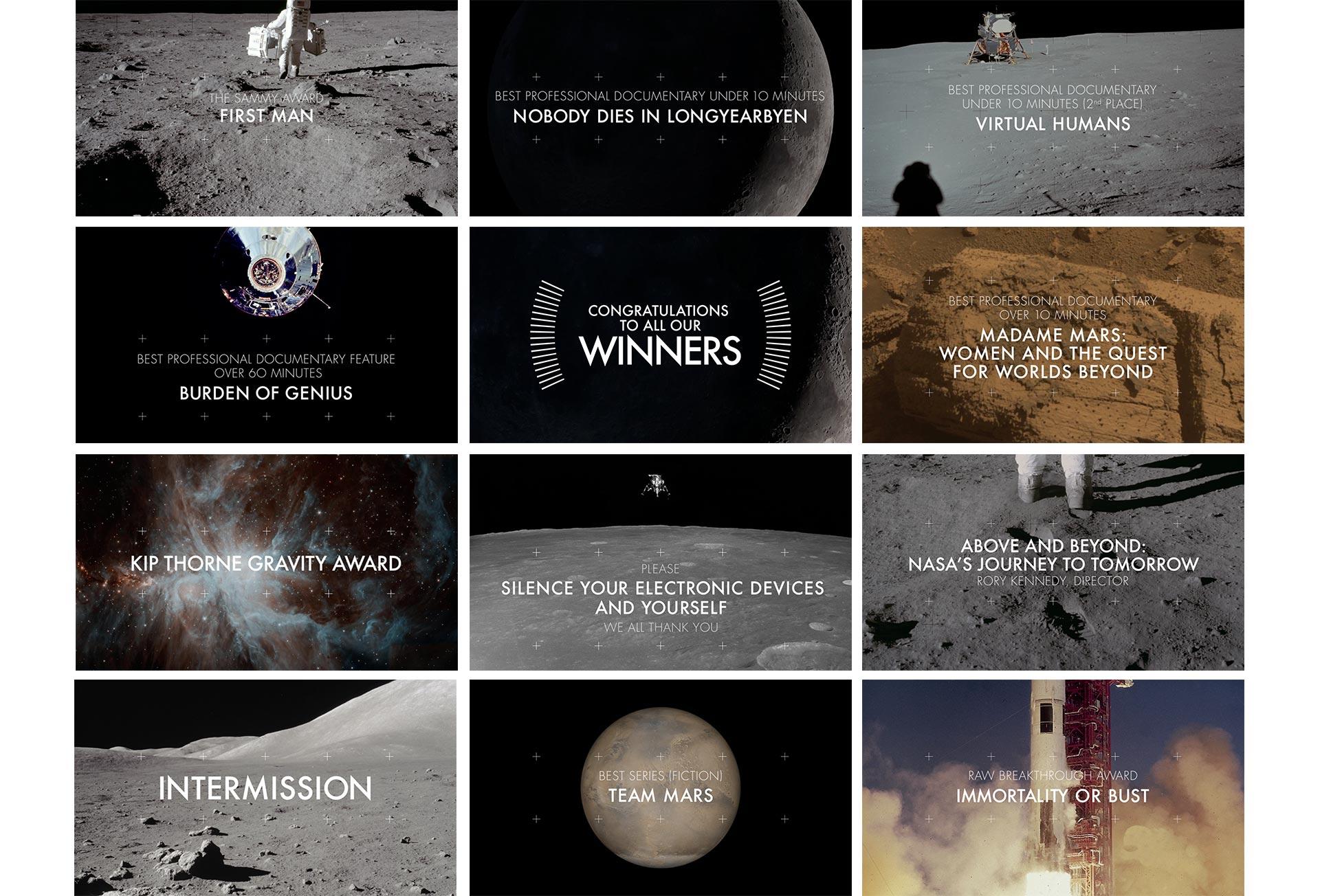 Assorted title cards