MOO VALENTINE'S DAY CARDS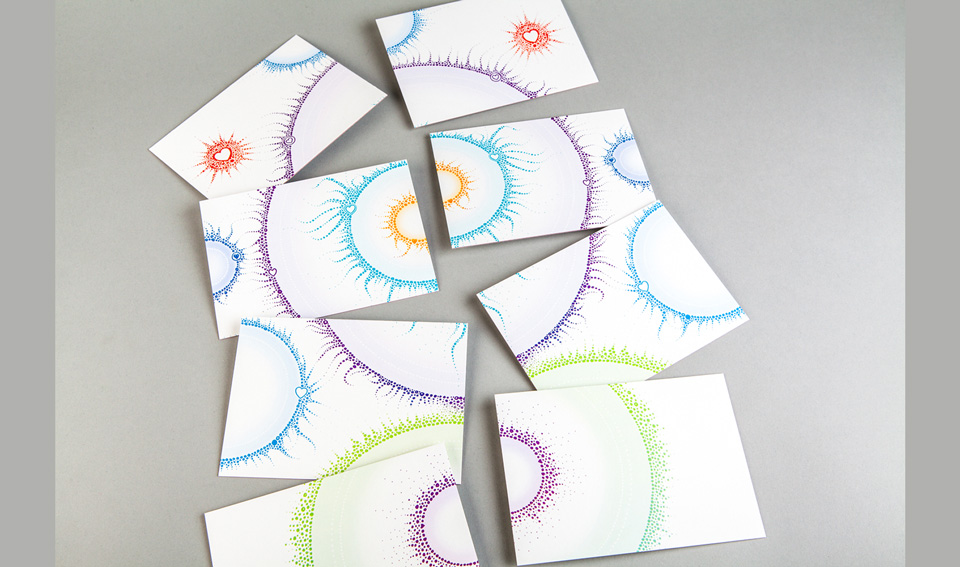 My friend YiShun Lai works with ShelterBox USA, a charity that provides emergency shelter and vital supplies to support communities around the world overwhelmed by disaster and humanitarian crisis. She asked me to design a set of cards to be printed by custom digital printer MOO as part of their Luxe Project to benefit ShelterBox. It was my honor.
The timing of YiShun's request suggested a motif: Around Valentine's Day I always look for cards that are beautiful but non-corny. I thought I'd get analytical and create a set of cards that takes a look at love on a cellular level. Turns out that the cells in your body know when you're in love and reconfigure themselves accordingly. Some cards have more hearts than others, so you can pick the perfect level of understatement or exuberance for each recipient. Of course, the design also picks up a thread I started for another charity project, the 344 Lamp designed to benefit Inner-City Arts in Los Angeles.

The cards themselves are printed on super thick Mohawk Superfine paper. You can customize the backs however you like and choose among four nifty edge colors. (That's how the MOO thing works, which is why there isn't a BUY button on their page, but rather a START MAKING button.)  If you lay out all the cards in the set you'll see that they form an overall design. I added that feature just in case you'd like to invite seven of your friends to a Valentine's dinner. Then you could all bring your cards and put them together to complete the design on the night. (The cards are non-corny, I myself am not.) The promotion benefitting ShelterBox has come to an end, but you can still order yourself a set of cards. Happy Valentine's Day!
---