344 QUESTIONS
EXPANDED EDITION
The original edition of 344 Questions has been one of my most successful projects—over 40,000 copies sold, foreign editions, and most importantly, many, many kind notes and letters from people telling me that the book helped them. When the rights reverted back to me in 2022, I decided to create an updated version.
Right off the bat, the new edition allowed me to incorporate two major changes readers had been requesting for ages: The new edition is over 50% larger than the original—6 x 9 inches vs 5 x 7—and it's printed on uncoated paper. Both changes should make it much easier to fill out the book.
With traditional publishing this would've increased the price significantly. Producing this reissue through Blurb—and forgoing the option of listing the book on Amazon—allowed me to keep the price at $19.90. Had I checked the "Amazon" box and reduced my royalties to zero, the list price would've been $31.89. Is the book worth $31.89? Absolutely, but that would have put it out of reach for too many people.
Beyond just making the book readily available again, this was a chance for me to add some of what I've learned since the original edition came out. And I've lived a lot of life since then, so there was no shortage of material. My relationship to my work has changed significantly. I've disavowed hustle culture entirely. The world has changed. Friends and family have died. Love has come and gone from my life twice over. Covid continues to keep me in a state of suspended activity. It's been a whole-ass decade, and the new pages reflect all of it.
---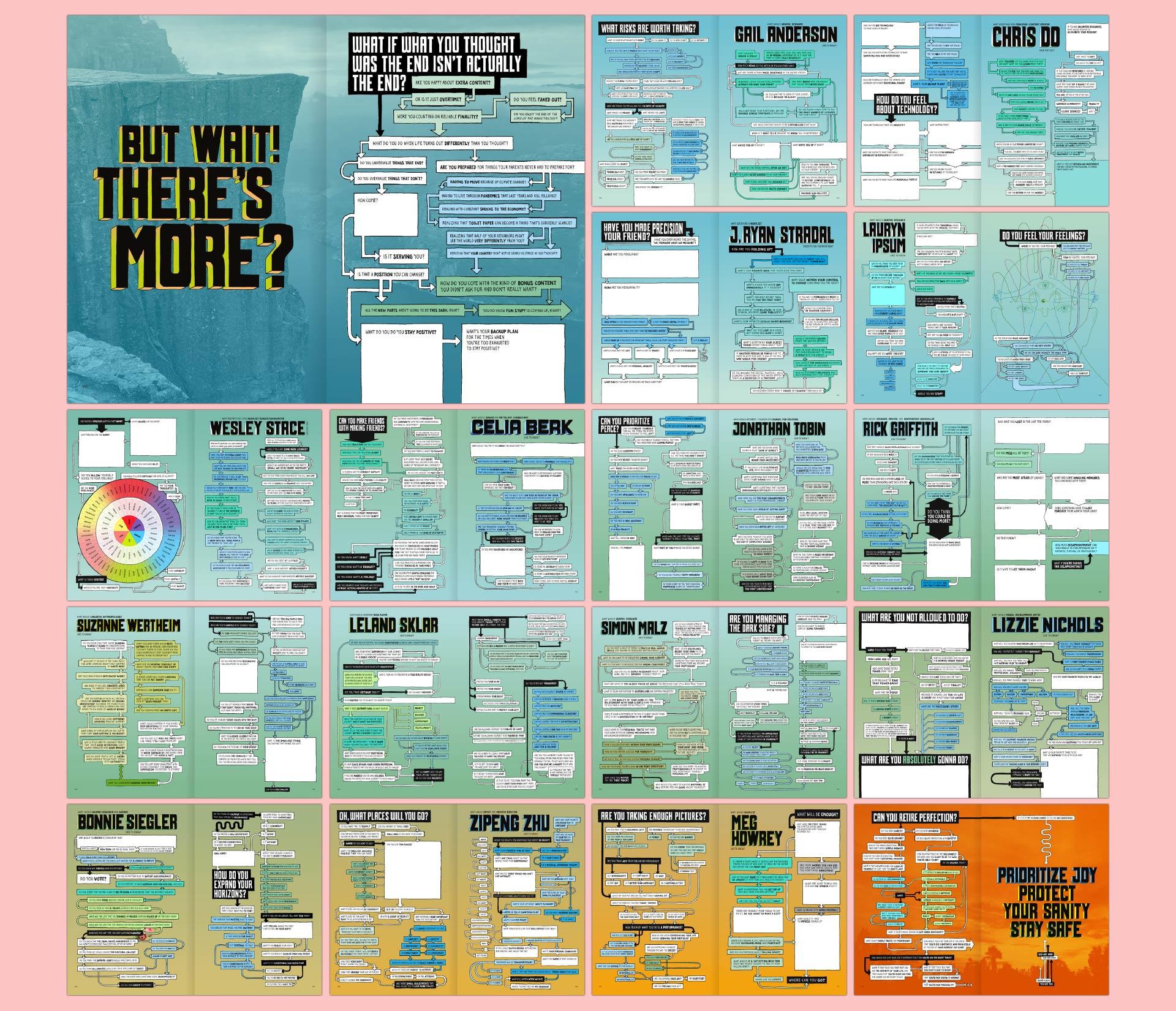 All the new pages. I got a little more adventurous with the format.

As you can see, I also had the opportunity to invite new friends and colleagues to contribute questions to the book. And they've had whole-ass decades, too, so their questions are real.

I'm very happy to have this expanded edition available for you. I hope it will make you feel a little less alone and a little more understood. I hope it will be a flashlight when you're in the dark, and a sail on the ocean when you're adrift. I hope it'll help you breathe deeper and—should you need it—maybe it'll help you fall (back) in love with life a little.