MANHATTAN SERENADE
After inviting me to design her debut album "You Can't Rush Spring" two years prior—and releasing the album to great critical acclaim—artist Celia Berk honored me by once again engaging my services for her sophomore album "Manhattan Serenade." As before, it was my pleasure to lend a hand.
As with her first album, Celia collaborated with arranger and conductor Alex Rybeck, and produced a gorgeous set of standards from the Great American Songbook, centered on the theme of life in Manhattan.
As critic David Zippel puts it in the liner notes, this album is "a connoisseur's compilation of one exquisite, undiscovered musical gem after another. Celia Berk and her arranger/conductor, the esteemed Alex Rybeck, consider themselves to be 'musical truffle hounds,'"
He goes on, "There are so many reasons to love this beautiful collection of songs—the lush arrangements, the extravagant orchestrations and, of course, Celia Berk's knowing vocals sung with charm, warmth and wit. Celia has impeccable taste. She chooses great songs, has superb arrangements and then trusts her material. Her interpretations are honest, unadorned and imbued with intelligence, sensitivity and an intuitive understanding of what she is singing about."
---
For the album imagery, Celia worked with photographer Sekou Luke, hair & makeup artist JSterling and stylist Prince Riley. Together they produced classic shots of Celia that suited the musical selection. As is so often the case when one is given wonderful ingredients, it was my job to make my part of the work almost invisible. I helped Celia sort through the somewhat daunting treasure trove of possible cover images, did some work extending the images she chose to fit the CD format, and added a bit of tasteful typography to top it all off.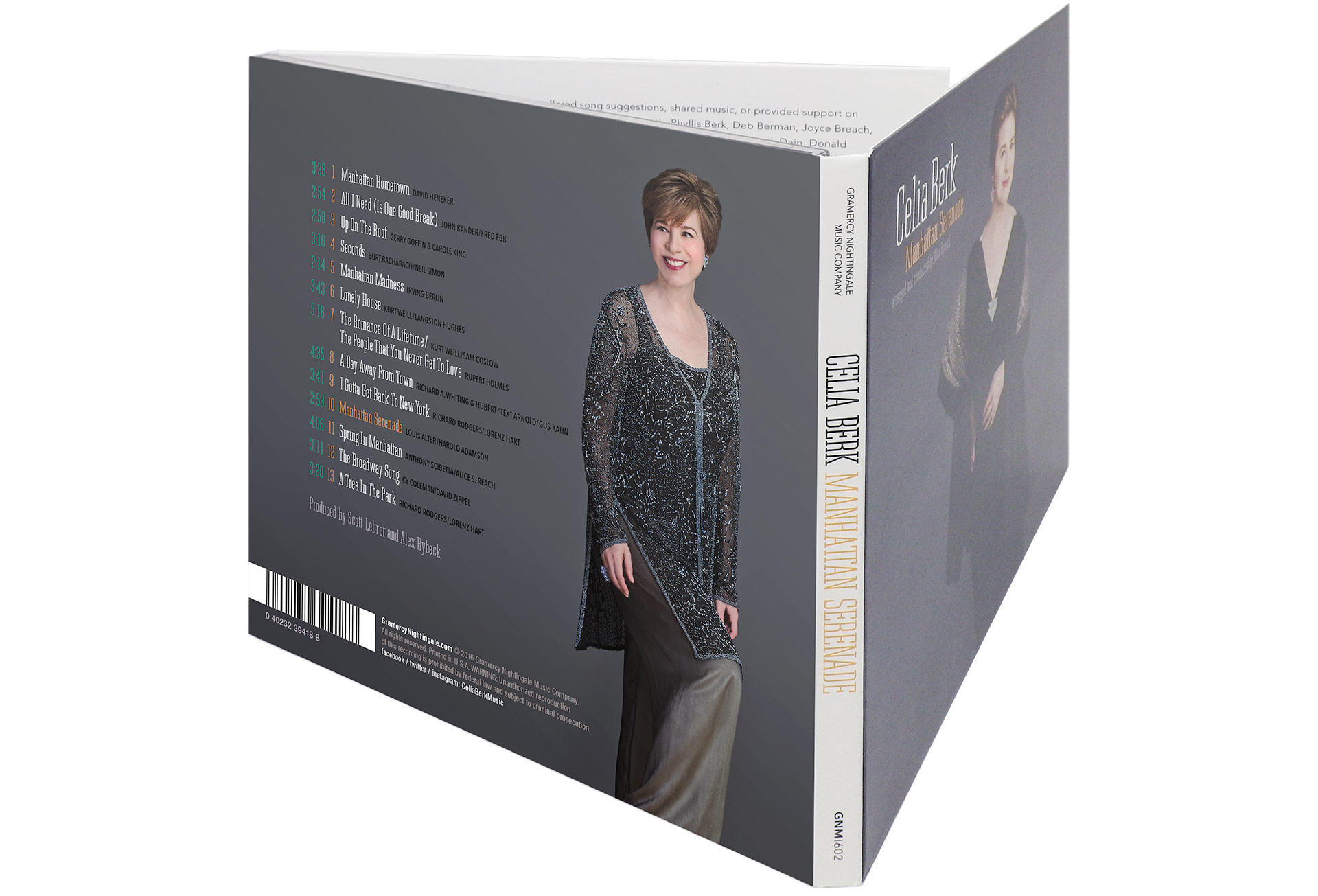 One typographic challenge of DigiPak CDs is how to lay out a lot of product information and personal acknowledgments without making the result feel cramped. In this case I was able to rely on the basic tools of type weights and colors to bring some hierarchy to a dense field of information. Once you pop the CD out of its tray you're rewarded with a beautiful image of Manhattan at night, shot by Richard Nesbit.