The CABINET OF WONDERS : CALIFORNIA Poster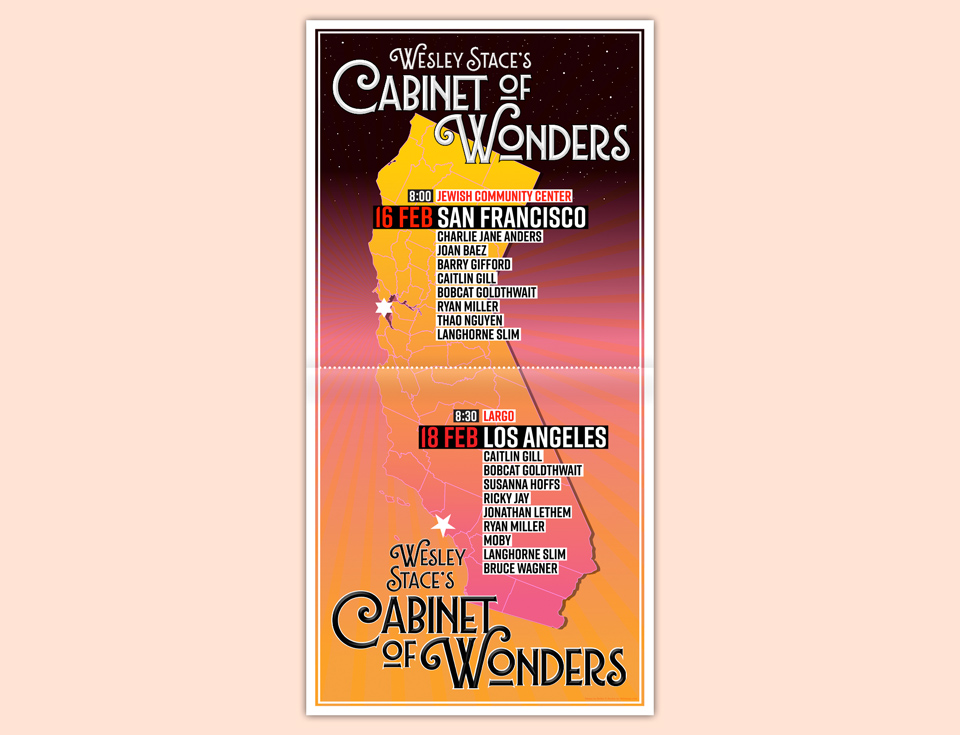 My work with Wesley Stace began in 2014, when I animated a video for his song "Goodbye Jane." Since then he invited me to speak at WAM Fest at Fairleigh Dickinson University, and tolerated my occasional logo pitch. When his brilliant vaudeville show "Cabinet of Wonders"—an East Coast mainstay of some repute—came to my home state for two nights, a special California poster was called for.
The Cabinet of Wonders brings together a mix of musicians, writers, poets, and comedians, reflecting Wes' own ecletic career. For these two shows, he enlisted writers Charlie Jane Anders, Barry Gifford, Jonathan Lethem, and Bruce Wagner; comedians Caitlin Gill and Bobcat Goldthwait; musicians Joan Baez, Susanna Hoffs (of the Bangles), Ryan Miller (of Guster), Moby, Langhorne Slim, and Thao Nguyen (of The Get Down Stay Down); and magician Ricky Jay. Quite the lineup. 
---
My initial thought was to do a super intricate hand-lettered composition. It quickly became clear, however, that the main use of the poster would be online, where that sort of thing doesn't show particularly well. I went for simplicity and clarity instead: I let the State of California itself be the backdrop, which suggested a longish format. I chose 12 x 24 in., so the poster could be folded in half to the size of a vinyl record sleeve, and become two posters in one—a San Francisco half and a Los Angeles half. At the center seam would be a perforation, allowing HiCal or LoCal partisans to properly divide the state and discard the less desirable half. As we were dealing mostly with online distribution, the perforation became simple a dotted line.

The dual titles are set in the typeface Lubaline, an homage to genius designer Herb Lubalin, designed by Maximiliano Sproviero and published by Lián Types. I added a three-dimensional effect as a reference both to circus typography and vintage California orange crate labels. Now, when I say I added the effect, it may suggest that I simply pressed a button in Photoshop. If you look at a lot of movie posters, that's often all you see. But the result is unacceptable to me. It creates a sloppy look that may be sufficient for something viewed in passing, but doesn't hold up to any close scrutiny. Allow me to illustrate: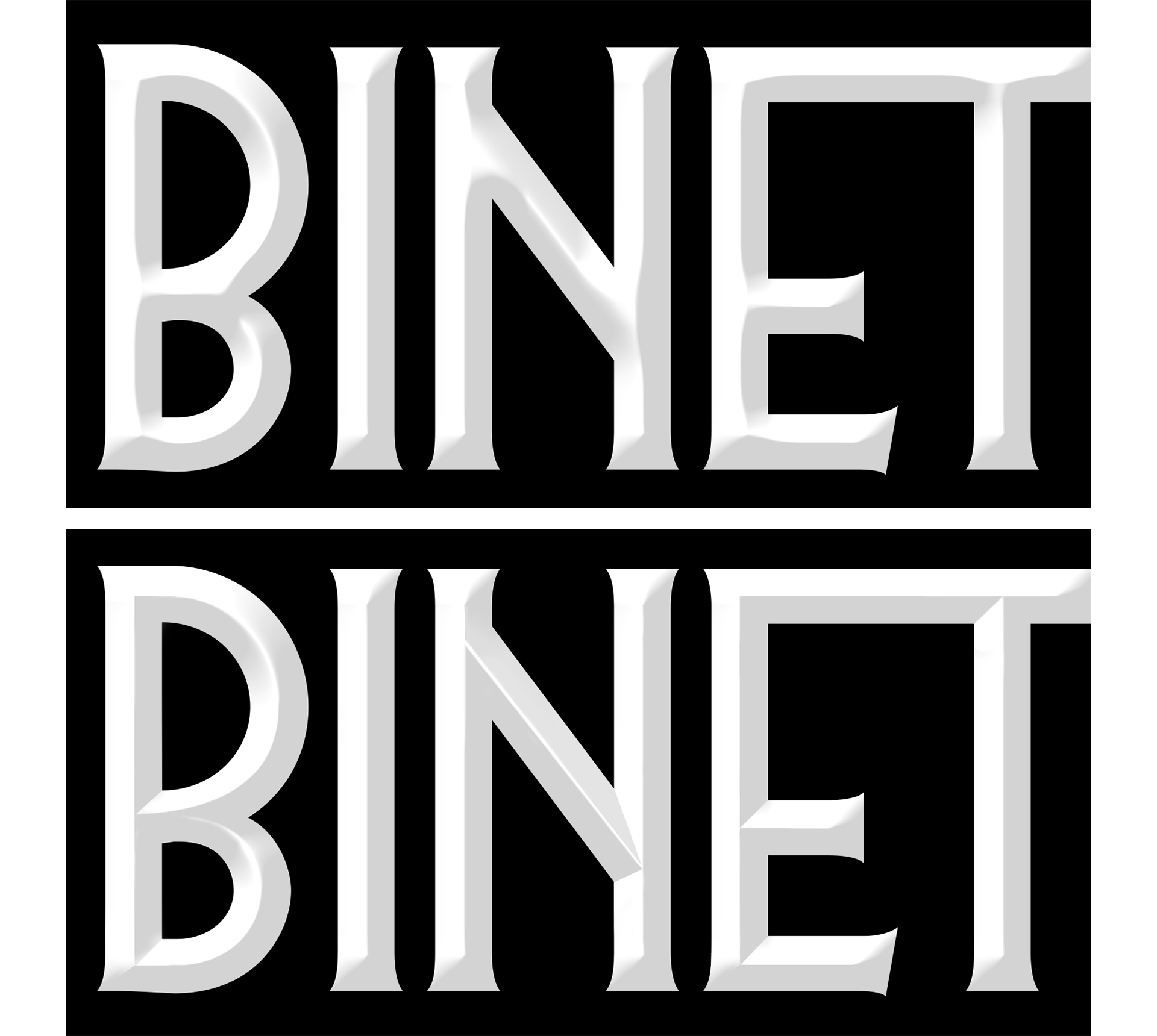 The top version is what you get from Photoshop's bevel filter. It does very well on straight lines, but gets easily confused by corners, particularly sharp ones. You can disguise that sort of thing by slathering on a bunch of textures and lighting, but at the end it's all just camouflage for laziness. If you love dimensional type, you settle in for a few quiet hours of manual cleanup. In this case, I did it twice, because I wanted the lighting for the heavily tanned Los Angeles lettering to be different from the pale San Francisco letters. 

For the show details I used a new favorite, the beautiful Rift typeface by Mattox Shuler, published by Fort Foundry. (I eagerly await the day Mattox adds lowercase letters.) I wanted the layout to look a bit like the departure and arrivals boards at the airport without being too literal about it.

As a final touch, I marked the two cities with stars—a Star of David for the San Francisco performance at the Jewish Community Center, and a tasteful pentagram for all of us Satan worshippers here in Los Angeles. Wes asked me for an Instagram ready version, which gave me the opportunity to make those stars spin, and to set them to the opening part of the unofficial Cabinet theme song, "Religious Experience (Singing A Song In The Morning)" by Kevin Ayers and Syd Barrett. Listen to it in its entirety here if you dare. It's fluffy fun at first, and then it will burrow into your frontal cortex like the brain eels of Ceti Alpha VI. You've been warned.

As a little bonus, my friends at Typecraft helped me produce a small run of printed posters as a gift for the performers. I treated myself to delivering both sets in person, and got to enjoy two fantastic shows along the way—the first of which included the world premiere of Joan Baez' new song "Nasty Man." This one you can listen to without fear of anything but enjoyment. (Who knew Joan was so funny?) You can listen to six past events on NPR's website, but if you ever get the chance to see the Cabinet of Wonders live, you absolutely must! It's truly delightful, and I'm so pleased to have contributed this little bulletin to its California visit.