LetterHeads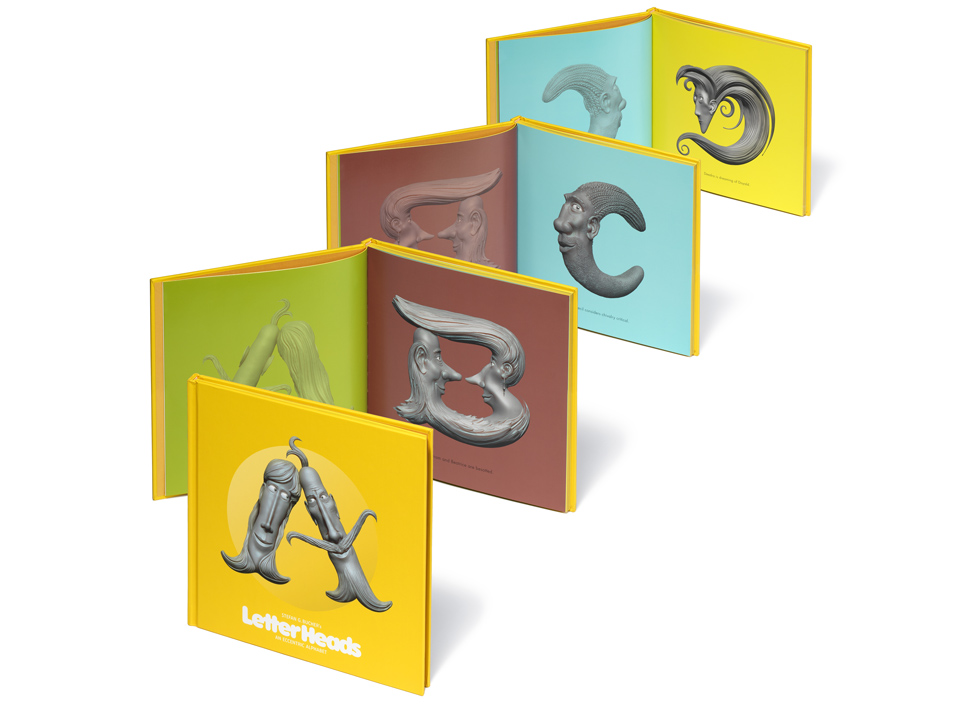 After 344 Questions I took a little break from writing books. A little relaxation is nice, but then an idea grabs me and won't let go. In this case, the idea was to combine my love of letterforms with my love of character design. Daily Monsters + Typography + Future Tech = LetterHeads.
How did all this happen? While speaking at the -ING Creative Conference in Dubai in the spring of 2016 I got to attend a seminar by creature designer Neville Page (of Avatar and Star Trek fame). He was demoing his process using 3D sculpting software. I was hooked immediately. As soon as I returned home I started playing and practicing. It wasn't too long after that the idea of making letters come alive with faces entered my mind. From there the story is simple: A year of intense work led to meeting Chris Heiser from Unnamed Press, and here we are with Book Number 7.
Of course, there were twists and turns along the way, but really… not that many! Some projects just come out the way they're meant to. As this is the first four-color book published by Unnamed Press they allowed me to take the lead on production, and I turned to my friends at Burnett Print Group who had helped me with the Tarsem book and with the 12 Bigger Monsters portfolio. We spared no expense and tricked out the book with 200 gram paper, painted fore-edges, and a beautiful spot-gloss UV cover. Not to be crass, but if you'd like to order a copy, you can do so at here.
---
"But I haven't even seen the inside of the book," I hear you say. Fear not. I have you covered with this, the official (abridged) audio book, as read by Mr Marc Evan Jackson, whom you might recognize from his roles on Brooklyn Nine-Nine or the Thrilling Adventure Hour. Perhaps you know him as LandSat Steve from Kong: Skull Island. I know him as the man who I'd happily listen to if he read the alphabet:

But maybe literary readings aren't your thing. Perhaps you're more of a singalong person? Again, you've come to the right place. You might know my friend Wesley Stace by his occasonal alter ego John Wesley Harding or by the music video I made for him. Or by the poster. Wes was kind enough to write and record a beautiful song about the LetterHeads! Over 40 of my friends voluntered to be in the video. One brought her pet chicken. Enjoy!

Does Haruki Murakami have a song for any of his books? Do Margaret Atwood or JK Rowling? No, they do not.

But maybe these are just gimmicks to you. Maybe you'd like to see how I actually made these characters. Yes, there is a video for you, too:

I'll be going on a little book tour around the United States in the spring of 2018. You can find the updated dates on the LetterHeads site. If I'm coming to your town, please come say hello. If I'm not coming to your town, and you'd like to invite me, please contact Unnamed Press and we'll figure something out!